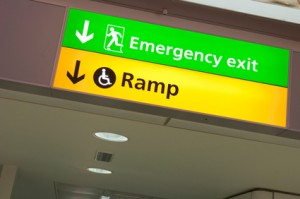 Interior design classes focus on many aspects of the business – from basic color schemes to advanced architecture possibilities. But some classes insert special project work that blends standard course material with real-life scenarios in an effort to help students grasp the intricacies of their future profession.
The interior design class in a recent story from Central Michigan Life, a college newspaper, illustrates how interior designers must learn skills to not only do the job of interior designer, but do it through the eyes of the client:
"Most people might assume interior designing consists only of picking out color schemes and pillows.
But according to the students in the IND 339: Interior Design Studio: Special Users class, the subject is much more complex.
Professor Jeanneane Wood-Nartker teaches students about designing for children, older adults and people with disabilities.
Wood-Nartker said the emphasis is to learn about special populations and to emphasize the design process.
"One design can't work for all, but we try to develop a solution that works for most," she said.
Students in the course focus on universal design and sustainability.
Manistee senior Emily Brooks said the class goes on visitations throughout the semester for research purposes to make informed decisions about designing.
"We go to child spaces and assisted living facilities to get a feel for what designs are good and what designs are bad," she said. "We've seen spaces…." (Read the full story in this interior design class from Central Michigan Life.)
Interior design students who are subjected to project work that includes a specific demographic of their potential client base are better prepared for the challenges that are realistic in the profession. While it may be impossible to cover every possible scenario during the class time available in interior design colleges, just coming to an understanding about one challenge can instill critical thinking skills that can apply to all situations one might face as an interior designer.
More Reading about Interior Design Colleges:
Students from Honors design class help renovate public library
MSU-Great Falls interior design students excel
Kwantlen interior design program grads showcase final projects