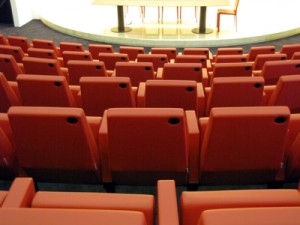 Future professionals who are still weighing their options about which type of school to which they should apply may benefit from looking up free seminars held by interior design schools in their area. Symposiums are usually free and open to the public. They also provide a great forum for would-be students to hear first-hand information from a school without all of the pressure of a one-on-one session with a school counselor.
As one man recently reported, there is much information to be gleaned from a free symposium at an interior design school:
One of the great things about living in a university town is the ability to attend educational lectures and symposia, which are almost always free and open to the public.
I recently went to a symposium at the University of Kentucky marking the 40th anniversary of the School of Interior Design. One reason I went was I knew very little about interior design or the education of interior designers.
I was like most people, school director Ann Dickson said: "They think it's about teaching people how to choose the color of drapes."
Modern interior design is about creating the environments where we spend most of our time. It is not just about making interior spaces more attractive, but more comfortable, efficient, functional, healthy and safe.
In an increasingly complex world, designers of all kinds are more problem-solvers than anything else. Many of the problem-solving approaches discussed by this symposium's speakers and panelists are useful no matter your business.
Robin Guenther, a New York-based principal with the big architectural firm Perkins + Will, is a specialist in designing health care spaces. Why should anyone but health care professionals care about that?
Well, at 18 percent of gross domestic product and growing, health care is one of the nation's biggest industries, Guenther noted. So much health care construction is being done that it is uniquely positioned to drive the research and innovation that eventually will influence virtually all construction.
Guenther gave a fascinating presentation about how the hospital building boom is leading to innovations in energy-efficiency, environmental sustainability, comfort and safety.
More Reading on Interior Design Schools:
Virginia Marti College of Art & Design Helps New Students in Tough Financial Times
Lisa Marie Goudey Shows Artwork at Cazenovia College Art Gallery
Noted Author and Feng Shui Practitioner Offers 4-Day Immersive Course on Ancient Interior Design