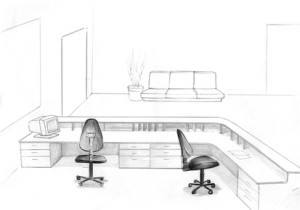 Lauren Manorek of the interior design school at Harcum College in Pennsylvania took home third place in an annual student design competition.
Manorek took home the award in November for placing in the 10th Annual KlingStubbins Student Design Competition.
KlingStubbons is a design firm specializing in everything from interior design to landscaping and hosts the seven hour long competition. Students from various interior design schools are given a model building shell and told to "design a commercial space". This involves floor plans, concept sketches, materials and finishing textures.
The interior design student was forced to beat out fierce competitors. A report on Patch.com noted that the toughest competitors for Manorek were students hailing from fashion design schools across the nation such as Arcadia University, Drexel, and Moore College. She also had to face a handful of her peers from the interior design school at Harcum.
"I'm very proud of Lauren for placing third in this competition. In her time at Harcum, she has developed great design skills, as well as a strong capacity to think creatively, so this award is well deserved. Lauren is a strong example of how Harcum students turn what they learn into real-world accomplishments," Harcum Interior Design Program Director, Heidi Techner told a college publication.
Manorek's win marks the second award in as many years for her interior design school at the competition, although Harcum College is no stranger to students that overcome the harshest competitors. On the heels of the interior design student's success, Harcum's women's volleyball and basketball teams were recently in the news for stellar performances.
Harcum College, host to the interior design school at which Manorek studies, is a two-year college established in the early 1900's. The interior design studies program allows for full or part time enrollment and is focused on hands-on learning, exploration, and critical thinking skills that will produce outstanding professionals in their industry.