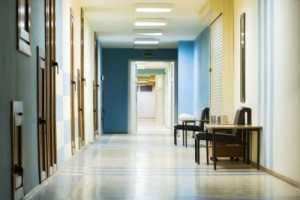 A recent conference regarding the rise in demands of the healthcare industry represents a sentiment shared by some of the country's top interior design schools.
The 9th Annual Healthcare Design Conference wasn't aimed at interior design schools directly, but did much in the way of pointing out the need for a targeted response from the interior design community at large.
Intuitive healthcare design pays attention to the traditional values instilled at interior design schools such as aesthetics and flow, but requires additional effort in the area of research and development. Certain interior designs are accommodating to both the patient and the staff who care for them.
One must consider not only the layout and lighting that is most beneficial to a functioning space, but how these decisions will ultimately affect the moods, behaviors, and productivity of people who spend the most time in a facility.
The 10th Annual Healthcare Design Conference, now setting up for November of 2012, will discuss the research surrounding the architectural and interior design of healthcare facilities. We can assume that much of that research will revolve around the newest data showing how interior design impacts a clinical environment – a clue for future curriculum development at leading interior design schools.
Interior design schools, such as the New York School of Interior Design, put much of their focus on this industry – teaching students about not only interior design as it relates to a clinical environment, but what it means to operate, administer, and manage a healthcare facility.
Pitching design ideas to a healthcare profession can be quite different than any other client that a future professional may encounter. The time seems to be upon us for specialized designers with extensive knowledge in the requirements and needs of this industry. Interior Design Schools like NYSID are very aware of this need and are launching new, specialized degree programs to prepare students for a career in this field.