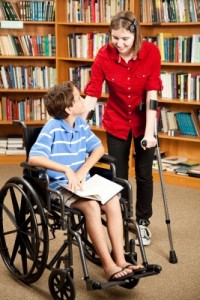 Students at an interior design school in Illinois took an opportunity to help younger students recently.
Students from the Advanced Design program at Lewis University took on a project to help design a new type of school in Bolingbrook, IL which will assist students with disabilities.
The Brooks Elementary School in Bolingbrook is launching a new program for students with disabilities aimed at helping those students find job training following school. The interior design students took part in the new launch by creating designs for the new building where the Secondary Transition Experience Program (STEP) will reside.
Advanced interior design students coordinated with the school district's students and coordinators to gain information about the new structure and program. As part of their research, the interior designers-to-be took a tour of the campus, talked with employees of Brooks Elementary School, and helped the students in the STEP program design a painting for their new facility.
An instructor at the interior design school, Leslie Colonna, said "This project was a great opportunity for our students to step out of the classroom and to apply their design skills to a real-world situation. It was a great success to involve the STEP students in the actual making of the artwork for their school."
Lewis University and the school district entered into a learning partnership some time ago, which spawned the effort between the interior design students and Brooks Elementary School. Interior design students garner important experience from projects such as this that allow them to coordinate with "clients" and develop concepts to meet the needs of their customers.
By enabling students to meet the needs of the community while earning important wisdom in their trade, interior design programs are able to create programs that have an impact in the lives of their students and the lives of others in the community. Students at the STEP program will use the new facility for their own purposes, likely remembering their time with the interior design class each time they glance at their cooperative art work.