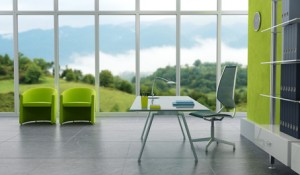 Interior design students that love the outdoors can learn landscaping at an interior design school and work on outside projects, as well as inside design. In fact, a portion of the interior design profession chooses to specialize in exterior designs.
As of 2008, there were 71,000 registered interior designers in the United States. According to the recent estimates by the Bureau of Labor and Statistics, 30% of interior design school graduates work in a specialize field of interior design. They also estimate that 14% of those are working in architectural and landscape architectural roles.  (Another 9% work in furnishings as a specialty, including outdoor furniture.)
Interior designers get to choose the way a room accomplishes a certain goal or aesthetic feel. They can manipulate moods, behaviors, and productivity. The job of an interior designer doesn't have to stop there, however. Many interiors overlook an outside landscape, so it seems fitting that the interior designer should have a voice in what that part of a design looks like, too. Interior design and landscaping are closely related fields of study and it only takes a few extra classes to be qualified to do both.
At an interior design school, the curriculum to become an interior designer is fairly standard. It includes design principles and techniques, as well as learning to choose interior materials, finishes, furnishing, colors, lighting, and energy use and conservation. Interior design schools teach students to also provide consultation services, manage projects, and work with other allied professionals in architecture, construction, and electricity. Architecture is a big part of an interior design education, and it is one of the commonalities between interior design classes and landscape design.
Landscaping classes at an interior design school also focus on the principles of design and the techniques utilized to bring designs to life. These classes will often focus more on the sustainable aspects of design and proposes unique processes for carrying out the function of landscape designers in the bigger project. Community landscaping, commercial landscaping, and private landscaping consultations and project management skills are also a core part of a school's course curriculum.
Both interior design classes and landscape classes teach students to use technology such as software programs to draw up conceptual ideas of how a space should look. Professions delve into the way an environment will feel to the inhabitants, how they may behave in the space, and how the design of the space will influence the purpose of the space. For example, an interior design for a home and an interior design for a busy hospital waiting room will have a similar function: to provide relaxation and a place of rest that is away from the critical operations that need to occur nearby. (No living rooms with openly adjacent laundry rooms.)