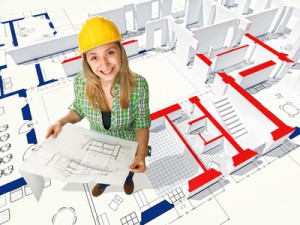 Interior design students are rarely afforded an opportunity to work on a live interior design project. While many schools make way for projects that co-opt community resources, allowing students to get real-world experience, few are able to offer actual renovation projects to their students. When the opportunity does come up for an interior design school, it is great practice for students and can be a sobering experience.
As pointed out in an article recently, students working on this type of project become very aware that their dream is about to be a reality:
You could call it a friendly competition with satisfaction on a job well done as the ultimate prize.
Two groups of interior design students at the Centre for Arts and Technology Okanagan (CATO) in Kelowna unveiled their handy work Wednesday morning at the 'Dwell' development on Ambrosi Road.
The eight students, who will graduate in September, put their design skills to work on two show suites in the newly completed third phase of the Mission Group development project.
Mission Group President, Randy Shier says the students were asked to take on the task because they fit the age demographic of the development.
"We could not be happier with the results," says Shier.
"The results have already exceeded our expectations."
Each four member team was provided with one show suite to decorate from top to bottom including walls and furnishings.
One suite was designed for a single male the other for a young couple with no children.
Lauren Mason who worked on the suite designed for a single male says the concept came from a piece of fabric that contained green, black, a beige colour and some greys.
"We just fell in love with the fabric and everything sprouted from there. That's where we came up with the stripes on the wall," says Mason.
"We tried to incorporate everything from those colours. That's why we have the black couch."
She says it's been a great real life experience.
Read more about the interior design students' experience from Casanet
More Reading on Interior Design School activities: