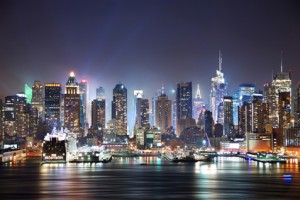 The New York School of Interior Design recently helped organize a showcase of up and coming interior designers in New York. Along with the Museum of the City of New York, the school chose the designers to be featured at the event where designers discussed many facets of their trade.
(InteriorDesign.net) New York School of Interior Design and Museum of the City of New York organized "New New York: Interior Design on the Cutting Edge," at the recently reopened South Street Seaport Museum (now run by MCNY). After a tour led by architect Chris Cooper, whose firm Cooper Joseph Studio heralded the Seaport Museum's renovation, six up-and-coming design firms discussed their residential and commercial projects, their approach to design, and how the field is evolving as a result of technology and the economy. The firms, chosen by NYSID's Judith Gura, included: Brooke Lichtenstein and Yiannos Vrousgos of Input Creative Studio; Britton Smith; Julie Torres Moskovitz of Fabrica718; Lyndsay Caleo and Fitzhugh Karol of the Brooklyn Home Company; Stefan Steil of MR Architecture + Décor; and Marie Aiello.
Lichtenstein and Vrousgos, who attended NYSID together, worked so well together as students on the school's 2010 DIFFA Dining by Design table that they decided to form Input Creative Studio. The duo suggested that expertise in several areas, like a modern-day Renaissance man, and fluency in technology—both for one's own work and to understand clients' needs—were essential to success today.
Britton Smith, who just launched his own namesake firm, and Stefan Steil of MR, bring a unique perspective to interiors: They both studied fashion before switching to interiors. Steil cut his teeth at Selldorf Architects before joining MR, and explained how he pins up endless images to get inspiration for a project and distill its essence. Today, Smith noted, anyone anywhere can buy anything anywhere. The trick, however, is… read more at InteriorDesign.net.
More Interior Design School News:
whatnot: SAIC Exhibition Popping Up in NYC
IAC Group Showcases Commitment To Next Generation of Vehicle Interiors