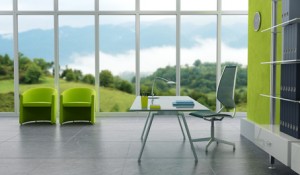 According to a report released by an interior design and architecture industry leader in news and statistics, the incentives offered by counties and states are making a big difference in the way schools will be teaching interior design.
The "green initiative" that has been taking the country by storm in the last decade is gaining more momentum thanks to incentives that are appealing to consumers; bolstering the career prospects of students in interior design schools around the nation.
The report, a collaborative effort between the National Association of Counties and the American Institute of Architects, found that tax breaks and faster permitting turnaround times are very appealing to consumers who are engaging architects and interior designers for their remodel and construction projects. Counties have long been working to include the latest environmentally friendly energy codes into their own local building codes, but the process is arduous and it is a difficult task to keep up with changes.
The national energy codes dictate how states are supposed to respond to their own interior design and architect needs and have several years in which to implement those standards. However, the national codes are updates every couple of years and many areas have a hard time keeping up. The report from AIA found out that, regardless of the complexities of national codes, the simpler the guideline is, the more likely it is that it will work to incentivize consumers.
All of this hard work at the county level spells changes for interior design schools and professional designers and architects, as well. Interior design classes are already adjusting to a generation of students who are keenly interested in working on sustainable projects. However, as fast as the nation adjusts to new guidelines, interior design schools must adjust their curriculum readily to accommodate the latest expectation of the industry.