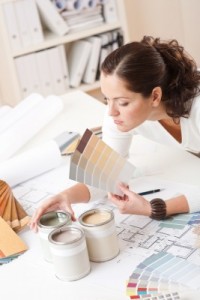 Nothing gives interior design students the opportunity to truly practice what they've learned like a real-world project. Students need to understand that size, scope, and budget truly matter when pitching the best laid interior design plans to a potential client. While colleges actively seek these types of engagements for their students, it is not often that the opportunity presents itself. But this is what occurred at one college, as a local job resource office contact the interior design department for a little help.
(New Have Independent) May 23rd, 2012 – Sometimes the best way to reach out is to do exactly that. This winter Joe Riccio, director of administration at the New Haven Job Corps Center, emailed Pierre Strauch, chair of the interior design department at Paier College of Art, asking if his students might assist a neighbor. The New Haven Job Corps cafeteria and food service environment was in need of improvement.
Professor Strauch thought this was a perfect opportunity to involve the third-year interior design students in a "real life" project. Instructor Jenna McClure, architect, lead the way with an initial site visit and meeting with Mr. Riccio. Photos of the space were taken and the program was decided.
Instructor Denis Ouimette, architect, took the class on a field trip to the Job Corps campus on Wintergreen Avenue in New Haven. Paier students had the opportunity not only to meet with Mr. Riccio, but to engage in a dialogue with the students at Job Corps. The Job Corps students liked the bright colors of the existing facility. Everyone agreed one of the main problems was noise. The high ceilings…
Read More: Art Students Pitch Job Corp Makeover
More Interior Design School News:
Interior Design Students Win Big at IIDA Awards with modo-generated Submissions
TV's 'Design Star' finalist helps Mt. Lebanon students create classroom