Despite a U.S. recession and less spending allowances in most family budgets, interior design is one of the few jobs to experience growth in its market. According to industry resources, the interior design industry made more than $2 billion in 2008 and has seen significant growth in the years since.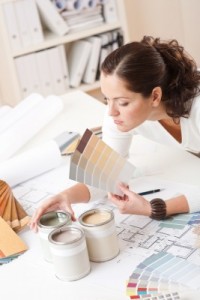 Interior designers who are earning the most share of that number seem to be those who operate successful interior design firms. Many specialize in a specific type of style and work in both commercial and residential interior design. Many of the top players work in retail, education, hospitality, and healthcare design.
According to Interiordesign.net, there are 100 big earners in the interior design industry. (See their list of top paid interior design firms.) The report from interiordesign.net attempts to explain this growth trend in a 2009 report about the industry:
"This is going to require a little perspective. Interior Design's current top 100 Giants earned $2,697,678,869 in 2008, an increase of 13 percent over the previous crew and 9 percent more than their own forecasts. Sounds good, no? But if the pundits who claim the current recession was already under way a year ago are correct, 13 percent is not just good but rather extraordinary.
This year's Giants were responsible for 750,308,533 square feet, up 19 percent, and $58,375,277,937 in furnishings, fixtures, and construction, up 7 percent. New construction accounted for 62 percent of jobs, renovations 38 percent—pretty much the same as the year before. Project types that paid the best per unit of time or effort were health care, office, and hospitality, followed at a distance by retail. Government and educational paid the least.
As of our survey last October, the Giants predicted a 6 percent decline in interior design income for the coming year. But, again, a little perspective. A 10 percent decline is projected in overall income, which includes earnings from building and landscape architecture, engineering, facilities management, industrial design, consulting, planning, preservation, lighting, feasibility studies, branding, graphics, and set design. On average, interiors account for 58 percent of Giant income, with only 16 firms devoted exclusively to the practice. Declines of 7 percent are also projected in square footage as well as furniture, fixtures, and construction.
The largest portion of Giant income still comes from the office sector, but its share has dropped 11 percent since 2005. Over the same period, hospitality grew from 9 to just shy of 20 percent of income.
Almost 30 percent of Giant fees derived from environmentally responsible design, with 19 firms earning 50 percent or more from the category. Still, 22—including five of the top 10—did not report …
Read more: Up To The Challenge: 2009 Top 100 Giants